8th Edition of the VAF-Foundation Prize
second exhibition: June 15 - September 1, 2019
Stadtgalerie Kiel
Andreas-Gayk-Straße 31, 24103 Kiel

The VAF Prize, awarded by the German Foundation VAF to Italian artists under the age of 40, takes place every two years.
In 2019 the participants are: Nico Angiuli, Davide Balossi, Giulia Berra, Martina Brugnara, Nina Carini, Federica di Carlo, Andrea Fontanari, Giovanni Gasparro, Silvia Giambrone, Emanuele Giuffrida, J&Peg, Dario Maglionico, Domenico Antonio Mancini, Michele Parisi, Susanna Pozzoli, and Tania Brassesco & Lazlo Passi Norberto.
The winner of 2019 prize is: Silvia Giambrone.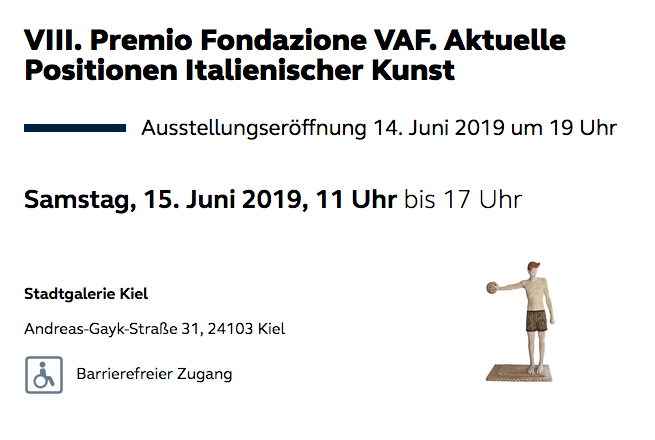 VAF Foundation Prize
Stadtgalerie in Kiel
The exhibition has been first presented at MART Museum, Rovereto, Italy: 16 March - 12 May 2019