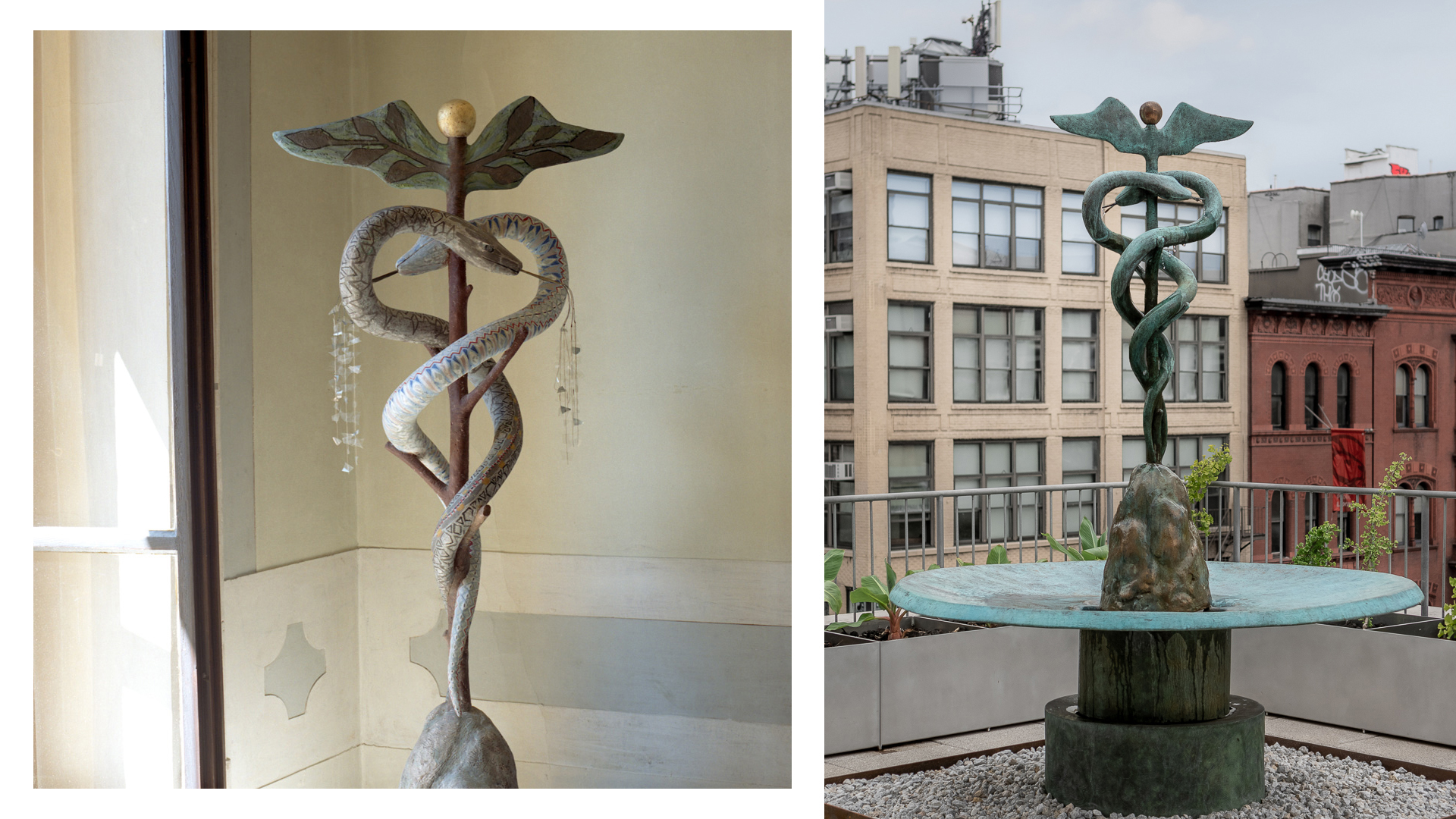 Image on the left: Meret Oppenheim, Hermes Fountain, 1966 / 2006. Bronze, dark green patina. Foundry: Pietro Caporrella, Roma, Italy. Courtesy of Karma International / Image on the right: Susanna Pozzoli, image from the project "Un'estate con Meret Oppenheim"
Meret Oppenheim's fountain on the roof of the Swiss Institute in New York / preparatory work by the artist Meret Oppenheim in Casa Costanza
save the date
BOOK EVENT AT THE SWISS INSTITUTE, NEW YORK
Un'estate con Meret Oppenheim at the Swiss Institute
OCTOBER 26TH AT 7.00 PM
This Fall several exhibitions and events are taking place in New York to celebrate Meret Oppenheim's work and life.
The retrospective My Exhibition dedicated to this artist is opening at MoMA on October 30th, while the Istituto Italiano di Cultura is presenting a solo show curated by art historian Martina Corgnati.
On October 26th, the Swiss Institute will present my book Un'estate con Meret Oppenheim (A Summer with M. O.) and Martina Corgnati, Lisa Wenger's book Meret Oppenheim My Album.
Art historian Barbara Stehle, who wrote an essaye included in Un'estate con Meret Oppenheim will conduct the evening.
The official newsletter is coming soon.

Please join us and spread the word!
Susanna Pozzoli "Un'estate con Meret Oppenheim"
Texts by: Susanna Pozzoli, Barbara Stehle, Volker W. Feierabend
Editorial project by Susanna Pozzoli; graphic realization by Stéfani de Loppinot
Language: Italian, French, English
Technical info: 213 pages, 24 x 28 cm, Sewn Binding, Hard Cover
Publisher: Manfredi Edizioni; VAF Stiftung editorial series, October 2021
ISBN 979-12-80049-13-1
Through her photographs and texts Susanna Pozzoli invites the reader to discover Casa Costanza the house-total work of art by the artist Meret Oppenheim. The book is an homage to this outstanding woman and artist by a contemporary photographer and author.
Since her childhood, Meret Oppenheim has been fond of Casa Costanza, her maternal grandparents' vacation home in the little town of Carona, on the heights of Lugano in Switzerland. The couple hosted family and friends including a long list of intellectuals and artists. The Wenger-Oppenheim had to leave Bern and Berlin, taking refuge in Carona during WWII and since then, the family always reunite in Carona which nowadays remain the family meeting place.
In 1967-68 Meret Oppenheim made of this ancient house a work of art: after guiding the innovative restoration, with the help of Aurelio Galgetti a young architect by then, she disposed all kind of objects and artworks precisely in the space. She made some interventions and created pieces of furniture and some work of art especially for the house. Since then, Casa Costanza remained exactly the same and it is still inhabited by family members, fully committed to this legacy.
Pozzoli photographs with her unique eye objets and details of this place with the intention of re-evoking Meret Oppenheim's presence and she proposes a personal approach to the testimonies she collected. The interviews are edited as a "cadavre exquis": while collected over several years they result in a unique dialogue mixing all voices. She interviewed family members including Meret's niece, Lisa Wenger, her mother, Birgit Wenger and her son Michael Wenger. The architect Aurelio Galfetti, working for Meret during the restoration, was also interviewed as well as Bice Curiger and Jacqueline Burckhardt, who collaborated with Meret Oppenheim on several projects, becoming close friends of her at the end of her life.
Art historian Barbara Stehle's essay analyzes Pozzoli's artistic process underlying the link between the two female artists. An interview to the author by Volker W. Feierabend tells us the story of this long-lasting project. Feierabend is the director of VAF Stiftung a German foundation supporting Italian contemporary artists which published this book as the first of a new series by Manfredi (IT).