#dressuptocheerup
Photographic exercise made during the lockdown in Montreuil (Paris). Follow it every day on INTAGRAM @Susanna_diary
DAY 1: 16.03.2020
DAY 56: 10.05.2020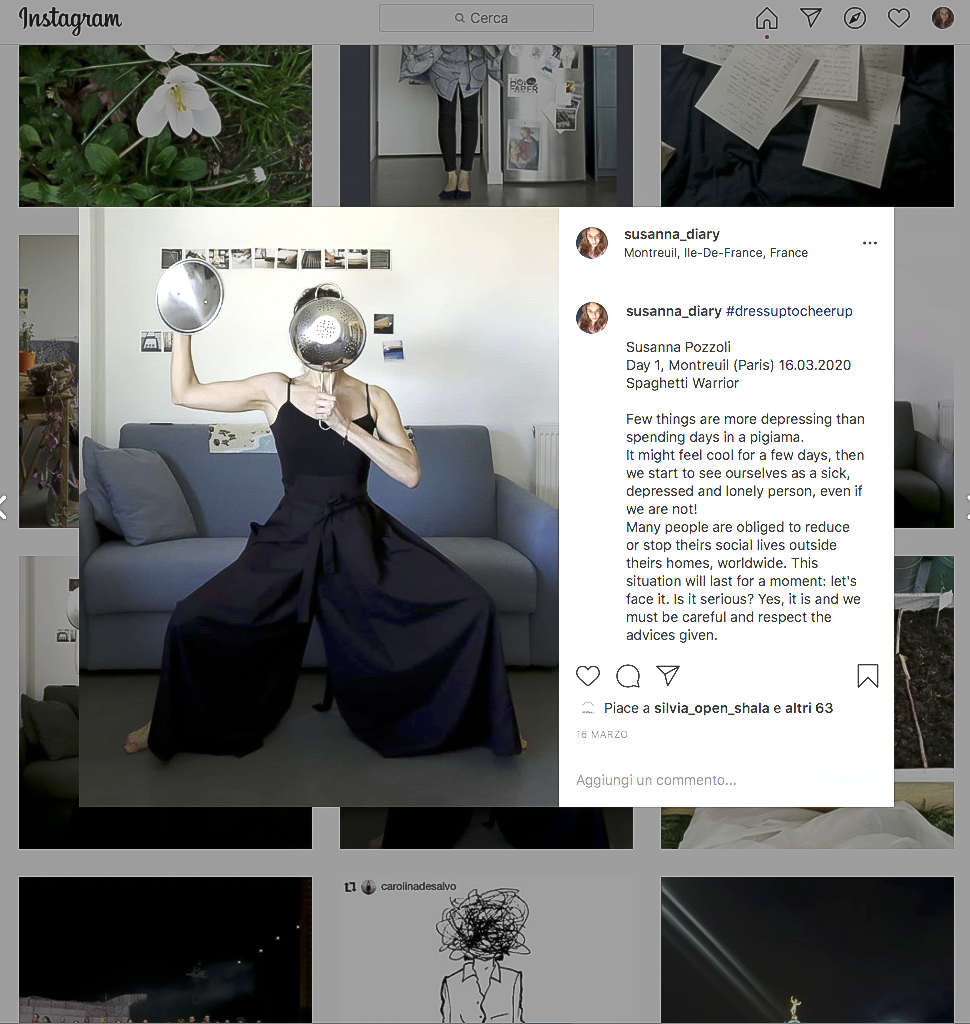 Italian, I was born and raised in Lombardy and studied in Bergamo. When the lockdown started in France, my family and beloved ones had been experiencing an extremely complex situation, for two weeks and more. I was therefore conscious of the danger, which certainly would have come at great speed here too.
I am a photographer, I work on commission at an international level and I develop personal projects that I exhibit. During the week preceding the "confinement" all activities planned for 2020 have been canceled. I was very scared to let myself go, to get depressed by the situation in Italy, by the fear of losing my loved ones at a distance, adding to this the loneliness and forced isolation, the disappointment for the projects that went up in smoke, the economic instability...
To cope with all this, I came up with a project to motivate myself and to keep the funniest side of my personality alive. Every day, I staged myself. I ditched my pajamas to create small metaphors of my situation or to embody legendary characters.
Until then, I had never imagined myself as possible subject as I always focused my attention on other aspects of life. However, in this completely unexpected and unique anxiety-inducing context, it was a vital impulse to guide me: what else could I have photographed in my forced retreat
alone?
This daily exercise also seemed like a way to maintain a bond with friends and family, scattered between Paris, Milan, New York, Toronto and Chiavenna (my hometown). As a juggler, I gave myself for mission to provoke a sincere laugh, at least one smile a day, a sometimes bitter, other times cheerful and light one.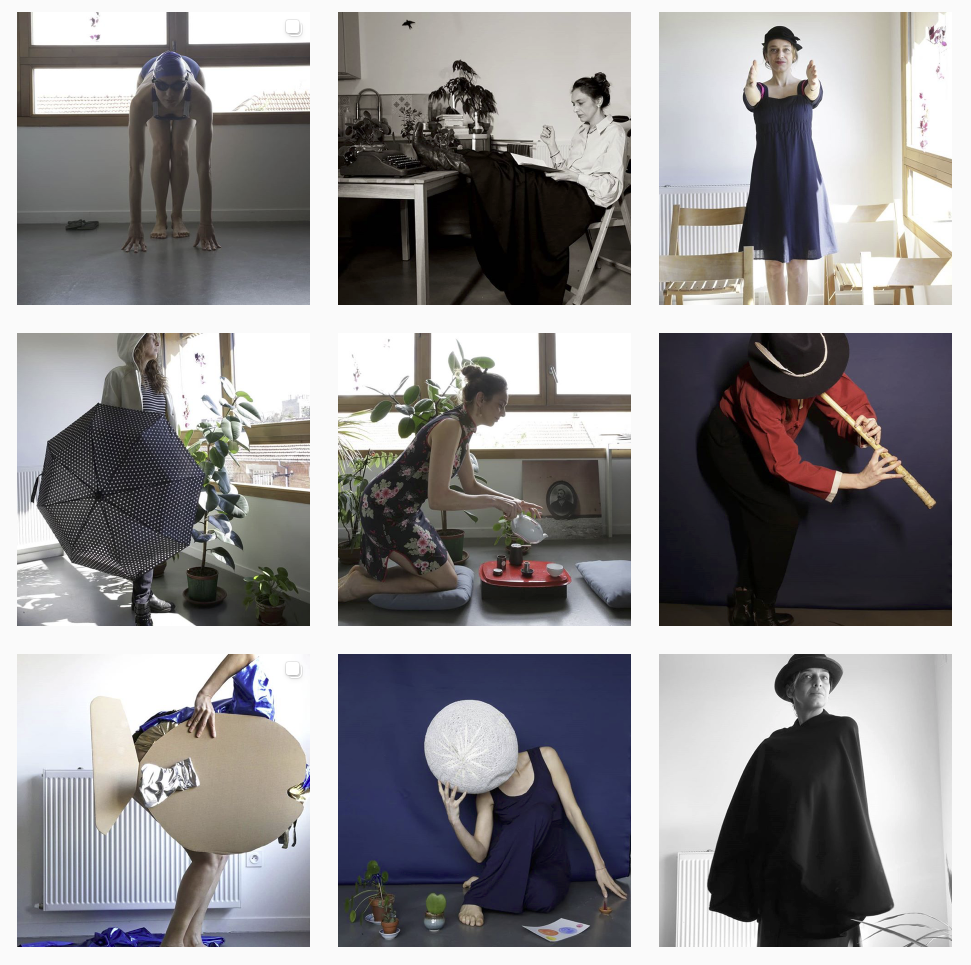 Rules of the game
• 1 self-portrait a day throughout the lockdown: a photographic exercise inalienable daily
• let the inspiration take shape without censorship, without thinking too much: it's a game!
• Invite anyone who wishes to post their photos, where they are staging to "cheer up", via Instagram with #dressuptocheerup
• use only what I have at home or make / sew with available materials my costume or outfit
• associate a short text to each image or small series, to express sincerely my mood of the day (respecting the limit of 2200 characters, threshold for a single post via Instagram)
• each self-timer is made with the 10 seconds delay time (my camera is not compatible with remote controls...) this makes it all even more fun!
• always do my best but keeping the playful aspect, experiencing the pleasure to create these representations, which first of all, help me to rhythm the days of isolation at home, to stay active and to explore a new side of my creativity.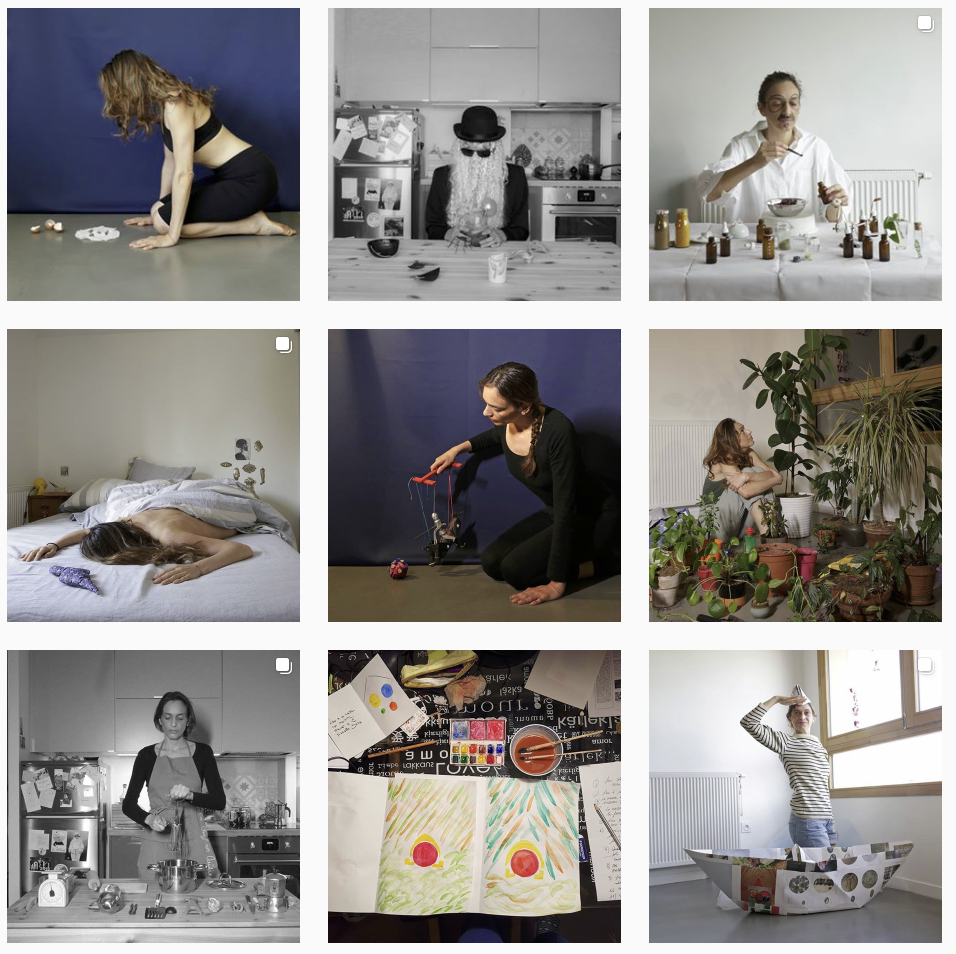 The end of the lockdown forced the conclusion of this project.
From the moment I left the house, working on forced confinement would no longer make sense. But during the "de-confinement" I kept making pictures, so #dressuptocheerup didn't stop abruptly. As A first seres explores the tangible signs (in my house) of the lockdown, following by portraits on the use of handmade fabric masks.